That's right BABAY!
I'm back and everything is coming up Milhouse!
So much to talk about... but where to begin?
First I'll address the title of the post here. Something Magic Happenin refers to the "Hit" theme song for the Baltimore Orioles back in their hey day! You can jam out to that
here
.
Seriously though... someone needs to hop a ride to cloud 9 and bring me back down to earth. The Orioles actually signed a decent starting pitcher to an unheard of in Baltimore 4 year deal in Ubaldo Jimenez and then not even a week later go out and sign Nelson Cruz to a 1 year deal on the cheap!?!
The Orioles already have a solid core with players like JJ Hardy, Adam Jones, Matt Wieters, Crush Davis, Nick Markakis and Manny Machado. Then they add Nelson Cruz to the mix for a full time DH and add quality depth to the pitching staff in Jimenez, Suk-min Yoon, and Ryan Webb. Now throw in the fact that they are still being linked to Ervin Santana as reported
here
! Even small signings still have potential to be big deals. Maybe Delmon Young or Jemile Weeks find there form again this season and take over left field and second base duties.
Then again... maybe none of this pans out and the 2014 Orioles are essentially the 2013 Blue Jays.
All I know is right here and right now we have a lot to be excited about in Baltimore. I can't wait for the first spring training game let alone opening day!
WOOGIE'S BACK!
(but where the heck did ya go?)
No where really... I just couldn't post pictures and thus was prevented from writing posts that I felt lacked in appeal without visual support.
However, problem solved and now I'm back and in a big way.
A few posts ago I complained about a dry winter and not having done any trading in the longest time. Since then (literally the same day I posted that) I've pulled off 5 total trades!
INCLUDING A LOST CARD!!!
That's right playa's
Woogie got another Lost Card back!
First things first though. I'll recap the trades I already blogged about.
As you'll recall I completed a trade that netted me a 2013 Topps Update mini relic of Stan Musial! This was numbered out of 25 and is the first in what I hope will become a complete set in my collection. To get it I gave up a fair amount. Here is what I sent out below.
The Machado auto was a big card to give up paired with the Musial relic. However I've already upgraded my Machado auto this past Christmas (still waiting for it in the mail) and the trade netted me a much better and more valuable Musial relic. The Jeter card was cool and the DiMaggio was a neat image variation. But it sealed the deal and I got this card in return!

Yes... the image is a little sideways but you get the point. 7/25 with a sweet seam right down the middle. I absolutely love love love this card! Great addition to my collection.
I was also able to land an Ozzie Smith lineage relic for a couple of Brandon Phillips 2013 Gypsy Queen Relics.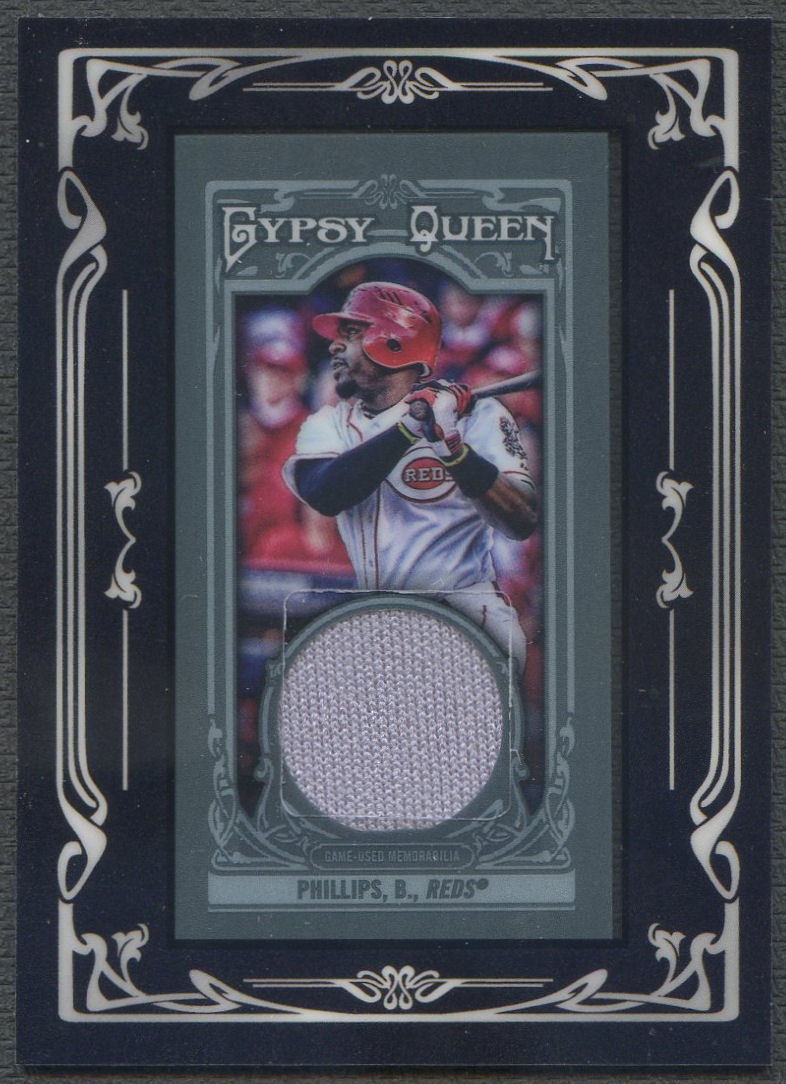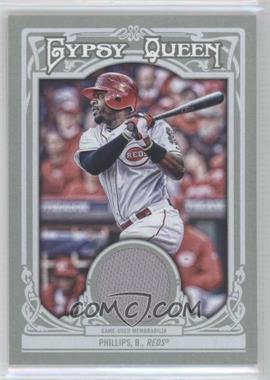 Good bye cards...
Hello Ozzie!
Then after I completed those 2 trades I was able to nail down 3 more trades with very little cost to my collection!
2 more Lineage relics and an awesome Lost Card!
I landed this Cal Ripken Jr. Lineage relic for an Archives auto of Cleon Jones!

Goodbye Mr. Jones

Hello Cal!
Next I landed a great looking Joey Votto all red swatch Lineage relic! In return I gave up a number of 2008 UD Masterpiece SP and Framed Cards as well as a Brian McCann captured on canvas relic to a set builder.
Welcome to the collection Votto!
Lastly... My LOST CARD
I found it on ebay and sent a message to the seller asking if they'd be interested in a trade. He came back and said Yes, but that he only really collected 49ers. I DO NOT collect football. However I had 1, uno, single, football card in my collection. Nearly 2 years ago I went to Arizona to visit my baller cousin Adam Woogrow and we hit up his local card shop. Tony, the owner, had such a great time dealing with us he let us pop a couple of balloons in his store that had raffle tickets that went with prize bags behind his counter. Mine came with a football auto. Again... the only one in my collection.
It just happened to be a 49er.
Sadly this cat no longer played for the 49ers (Manny Lawson now a Bengal) so I threw in a Brandon Belt Gypsy Queen auto and a Wade Boggs Donruss bat card for good measure.
He accepted and in return I landed...

Frank Robinson Significant Signatures!
So for those keeping tally at home that would be a total of 8 Lost Cards I've reclaimed (all Orioles card coincidentally) and now only have 5 more left to go! I'll be going hard after them all and will hopefully complete this journey before 2015!
Like I said... I've been a busy guy lately. Since I just pulled off 5 trades I'm going to slow down a little bit and really concentrate on the Lost Cards.
Before I part ways I do have to give a quick shout out.
To my favorite cousin ADAM. He convinced me that Internet Explorer was for 70 year olds who know nothing about computers and to download Google Chrome. So I did and he was right I guess. I'm sure I could have done something to explorer to get it to work again, but downloading Chrome was much easier and I was instantly able to upload photos again.
Thanks Aaum! YOU DA MAN!
and thanks to all of you who read my stuff!
Till next time...